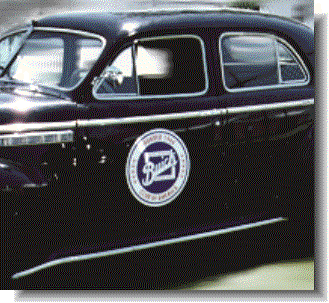 Logos are heavy duty, two color and die-cut round.
Great for Parades or Shows
Large 25" and 18" Decals
25" & 18" self-adhesive vinyl
18" & 5" magnetic

To order, mail check to:
WEST MICHIGAN CHAPTER, BCA
6150 Baldwin
Hudsonville, MI 49426
MAGNETIC -- Heavy duty magnet will adhere to any metal surface such as a car door, trunk or refrigerator. Use when touring, in parades or when attending club meetings, etc.
18" ..... $25 plus $4 for Shipping and Handling
5" ..... $5 plus $1 for Shipping and Handling
VINYL -- Durable, heavy duty, self-adhesive vinyl will adhere to any flat surface such as a car-hauler, garage door, wall or window.
18" ..... $10 plus $3 for Shipping and Handling
25" ..... $12 plus $3 for Shipping and Handling